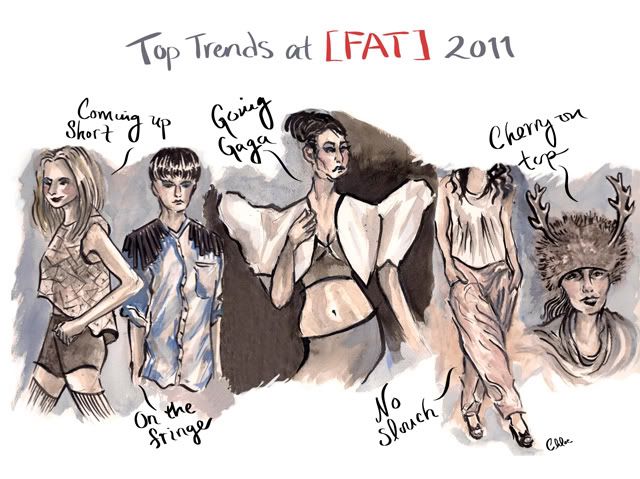 I was surprised and happy to see this awesome illustration by Chloe Cushman of
The Make Den
's very own Gaga jacket front and centre on
Torontoist
yesterday, while surfing the web with some students in an internet cafe in Bloordale. We made so much noise when we saw it they nearly asked us to leave the cafe. Sorry, Zone 3 Webcafe. The article sounds like she could be describing the entire collection (fringe, leather, cropped tanks and t-shirts, big shoulders) and goes on to say that the trends on the runway looked like glimpses of future of LG fashion weeks. Here's a quote from the well written article:
Then there was the clothing. Known mostly for its drama and dissent, [FAT] came out this year with talent that was on-trend and gave a glimpse at LG features of the future. While the unusual was still the norm, we noticed a few trends that connected the variety of radical designers, influences, styles, and perspectives that actually mirror the mainstream. We saw cropped tanks, fringe on everything from denim to leather, Gaga-worthy exaggerated shoulders, pants that were slouchy yet sophisticated, and headdresses and facial accessories that were often the crowning jewel of an outfit.
We were happy to see this mention up on
Fashion Magazine
, too:
After all the buzz over Berlin designer Julia Knupfer, we were beginning to feel antsy when her I.C.A. Watermelon collection was postponed to later that evening. Luckily, our attention was diverted to Bloordale sewing club The Make Den's presentation of fun DIY garments, including a bold-shouldered 'Gaga blazer' that might have us convinced to take up a new hobby.
All in all, I think everyone had a really great time this year - our models were really awesome and had so much fun dressing up in all the Make Den gear - and the backstage crew (Sissi K, Karen K, Jenn N, Emma Z and Margaret D) were super professional. I have to say, the make-up team from Make Up For Ever were especially awesome - the smokey black eyes looked incredible on everyone and might be my new favorite make-up look of all-time! Stay tuned for more backstage pics...