Save the date! Feb 26th at
Che Baba Cantina!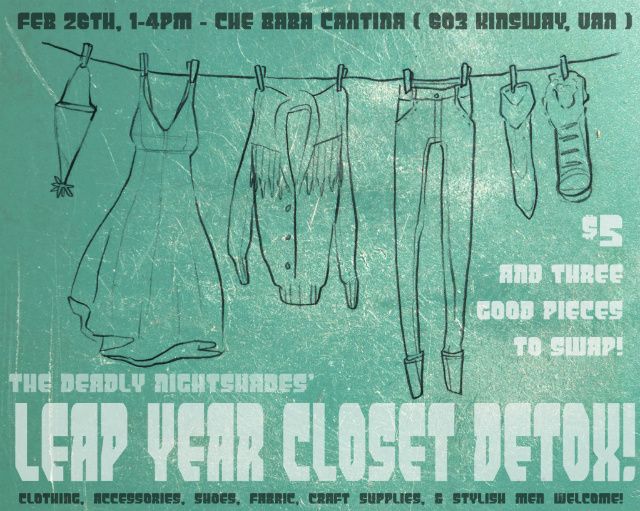 Che Baba is Namtron and I's favourite new brunch spot. It's got a supper cozy and beautiful interior design with a really tasty menu. It's co-owend and operated by my friend Allison, a fellow Ryerson Fashion Commi who I met doing the
Wildlife Show
, and then we collaborated on the Flourish Fashion Show for the first Green Living Show back in 2007. Now she's around the corner from me in Vancouver, making my tummy happy and curating a beautiful space to do yoga. Life is good!
But- back to the swap! We are trying to recreate the swaptastic magic that happened at Fountain Bar in Toronto! In case you missed it, the swap was supper fun, welll attended by stylish people, and everyone got a new wardrobe for 5 bucks. #WINNING.
Details for Vancouver go like this:
Details go like this:
February 26th- 1pm-4pm. Come for as long or as little as you like.
Che Baba Cantina, 603 Kingsway, just east of Fraser Street.
$5 to participate. (Funds towards a shinny, new, state of the art DNS camcorder.)
Minimum 3 good pieces to swap, bring more if you got it! You can bring clothing, accessories, shoes, rain gear, small house items, craft and sewing supplies. Stylish men highly encouraged!
We suggest coming hungry and thirsty! Che Baba has a amazing brunch menu, espresso bar and wine list. Swap, have some poached organic eggs on pan-seared polenta, go back and swap some more, then finish off with a desert of macaroons and a glass of Riesling. BLISS!
We are bringing in rolling racks and big mirrors so you'll have an organized, swanky swap experience.
All left over clothing will be donated to the Salvation Army nearby on 12th.
Go here for the Facebook event!