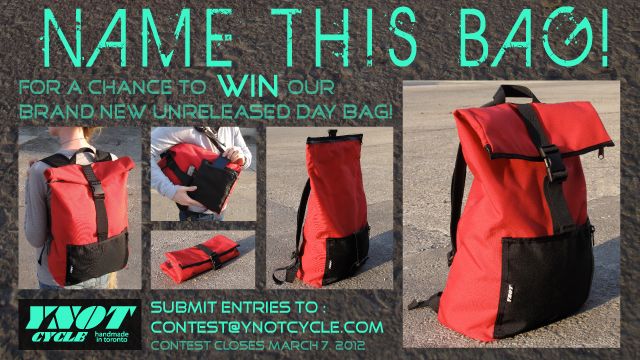 While we may be a bike crew by night*.... by day, Patty and I put in our time over at YNOT Cycle, helping make and design awesome cycling bags & accessories. And right now we're doing a little contest to name the newest addition to the YNOT bag family!
So put in your two cents for mad bragging rights & chance to WIN that lovely unnamed, unreleased, brand spankin' new day bag! Head on over to
YNOT
for more details!
Also, we're going to be at the Toronto International Bicycle Show this weekend, hanging out with our rad booth neighbours
Modrobes
&
Bike Polo TO
. So definitely come by the Better Living Centre at the Ex, and say hey at Booth 190! We'll be way more exciting that any of those awesome trick competitions or free ride demos going on.... promise.
* we are actually a bike crew at all times, not just night-time. Despite our name.