From June 26th to the 30th I was fortunate enough to attend the keynote sessions of Velo-City 2012 held here in Vancouver, BC.
For three days I was truly blew me away. There is a steep hill to climb and a lot of work to be done to make the rest of the world like Copenhagen, but with such brilliant and hard working professionals dedicated to this task, it's going to happen and it's going to be amazing.
I love
Notable Quoteables
, so took some of the best from the international speakers and submitted them Toronto's lovely
Biking Toronto
and
Australia's Treadlie.
Broken down into four parts, (seriously so much good came out of those presenters) they are meant to inspire and inform. Follow the links wiki-styles and dive deep into the world of cycling politics and infrastructure.
"Creating cycle friendly cities. It's child's play."
Dr. Paul Tranter- Associate Professor in Geography, University of New South Wales
This year the European Cycling Federation and Velo-City presented
The Charter of Vancouver,
which is a call to the UN and all nations to acknowledge the right for children to cycle. Biking improves so many aspects of a child's life; their health, independence, personal mobility, cleaner enviornment, and the list goes on and on.... You can read the notes from the
Children's Keynote in Part 4 of the Biking TO segment
.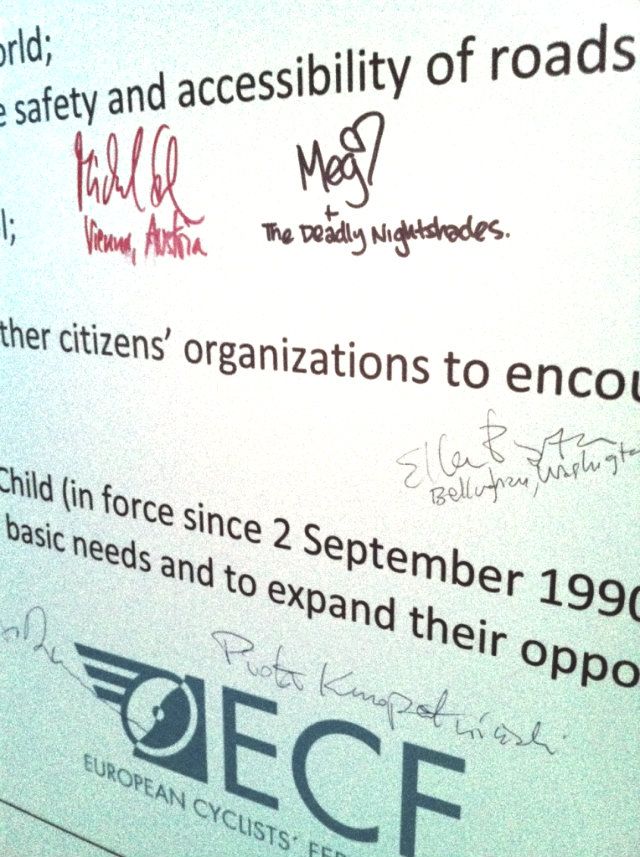 The closing of the conference called for all to sign the charter in suport. I was a privileged to ad my name, and signed on behalf of the Deadly Nightshades. It's not just NGO's who are working to make this world a better place to live and bike, us #girlbikegangs have a role too.
1Love.
xo