We were happy to be interviewed by the amazing Amelia Brown for the Huffington Post Canada on how we Gen Y/ Millennials use cycling to express our style, independence and create the culture we value.
"The Deadly Nightshades are convinced that the bicycle is magic. When they're out as a "roving midnight bike gang," in seafoam green jackets, the seven women are a bewitching sight, mixing cycling, art and fashion."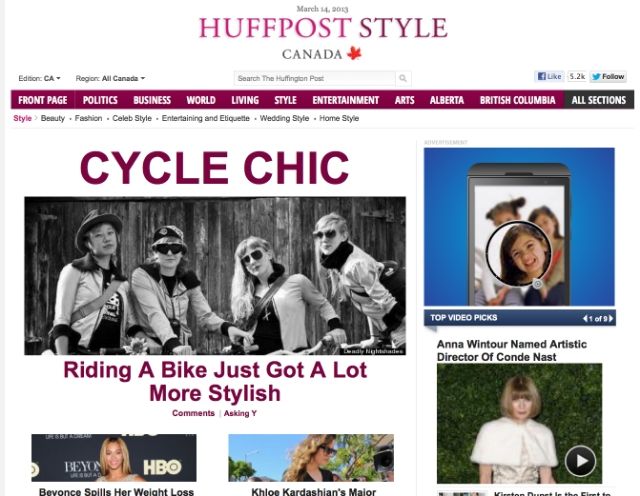 Just one note, for us "fashion" is more "personal style". The Deadly Nightshades came about from a
firm distaste of the traditional fashion industry,
and it was our punk way to be ourselves and assert our own values. So dress how you want,
define your own cycle chic, don't let others tell you how to express yourself,
and make your own informed decisions first and foremost.
Already the one comment on the blog is about how we aren't wearing helmets. (Rolls eyes.) Our official stance is this: we all do and we all don't, depending on various factors. Helmets, while AWESOME and have saved several of our noggins at various points, aren't a fix-all for bike safety, and are really just this trolling, polarizing issue we'd all be best to just drop as a topic of focus. The fact is, if we had been wearing helmets we'd be criticized for
promoting a culture of fear
and not putting the emphasis on car driver resonsiblity. Luke Brocki did an awesome write up of the issue in
his article on Velo-City 2012
.
The Huffington post article is a great article read all around, addressing economic issues like the crippling cost of cars, awesome places like the Bike Kitchen at UBC, and events like the Bicycle Film Festival.
"Despite efforts to market bright, affordable and gadget-laden cars to the Millennials, the bicycle is an easy solution that offers Generation Y freedom to get where they need to go without worrying about insurance payments down the road."
Huzzah! Let the culture shift continue!