On international woman's day, it's good to remember the connection the early 20th century's woman's movement had to bicycles. They got us out of the corset, provided mobility and independence, and were a symbol of freedom and modernity.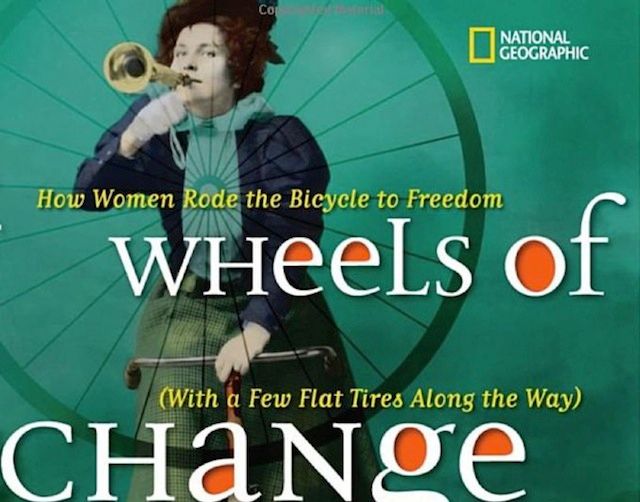 Wheels of Change: How Women Rode the Bicycle to Freedom
by National Geographic.
I haven't read this book myself yet, but I want to, especially with the author Sue Macy giving rad answers like this:
Q: Why are bikes still important to women?
A: I think that Leah Missbach Day does a great job in the foreword to Wheels of Change of explaining how bicycles are still important to one population of women--those in developing countries who are able to increase their mobility astronomically with the bicycles they received through World Bicycle Relief. But today in the U.S., bicycles are important to everybody. They allow people to do errands without using fossil fuels, to get great cardiovascular exercise, to see their surroundings in a whole new way. My neighborhood isn't great for cycling--too much traffic and too many hills--but I try to ride at least once a week in the spring, summer, and fall, usually stopping at a nearby farmers' market to restock on fruits and vegetables. It's a healthy way to live.
Here are three rad rad female and bike related videos for your eyeball and ear pleasure.
This week at the National Bike Summit,
Veronica Davis
, the founder of
Black Women Bike
, gave this inspiring talk about her background, community and passion. I took away many tid-bits of insight and wisdom on unconventional engagement and breaking down barriers, along with being inspired by her incredible work ethic and dedication.
Ladies Army 5
from
Geoffrey Tomlin-Hood
on
Vimeo
.
Next up- Ladies Army 5. This year it's in Vancouver- sorry,
EastVan
. If you can get your gears to Vancouver, do so. It's beautiful, laid back, and beautiful. But watch out, the beauty is going to cost you. Rent, food and alcohol are more expensive in Beautiful British Columbia. Some say BC stands for
bring cash.
So plan ahead ladies.
Last, but not least, the incredible Jenna Marbles on "Why Girls Hate Each Other." Don't think it belongs in with this other list of awesome I just put above? Let's be real here girls.
Jokes like this
don't take over the internet for no reason. We got to address some things. In throwing off the shackles of oppression, it's good to throw out the BS that came along with it, like comparing, competing and judging each other. When we do that "...we can just be b*tches together... you know, vaginas unite!"
Think about it. If you disagree, the comment box bellow is a safe space to say so.
xo