The ever amazing Nuit Blanche comes back to entertain us once again on October 5th! What better way to explore Toronto then a nighttime 12 hour art party? And there is no better way to do Nuit Blanche then on your bike with your friends, family, and frienemies. To prepare for this celebration of culture on bikes, it's best if you start out your night at the
2013 VeloReel Film Festival
. For the second year in a row DNS curated an amazing line up of films-about-bikes for your eyeball pleasure. For the first year we are tagging onto Nuit Blanche to do this. For the second year, you can roll up on your bike and watch movies with your friends under the stars... It's only $5, along with being BYOB. No fancy-smansy film festival BS- just good moving pictures, good people, and bikes. Just the way we like it. COME HAVE FUN WITH US!
This year we have as a feature film the long anticipated
BIKE LORDZ
, a crowd-funded film about BMX trick culture in Ghana. Last year's favourite film makers from Cycle Me Home brings us their new film
Feel Free
. We have more movies from our beloved city and around the world, why don't you go check out
the program
to see how awesome it is yourself. While you're at it, why don't you share with a friend and start making plans about coordinated matching macrame pink elephant costumes?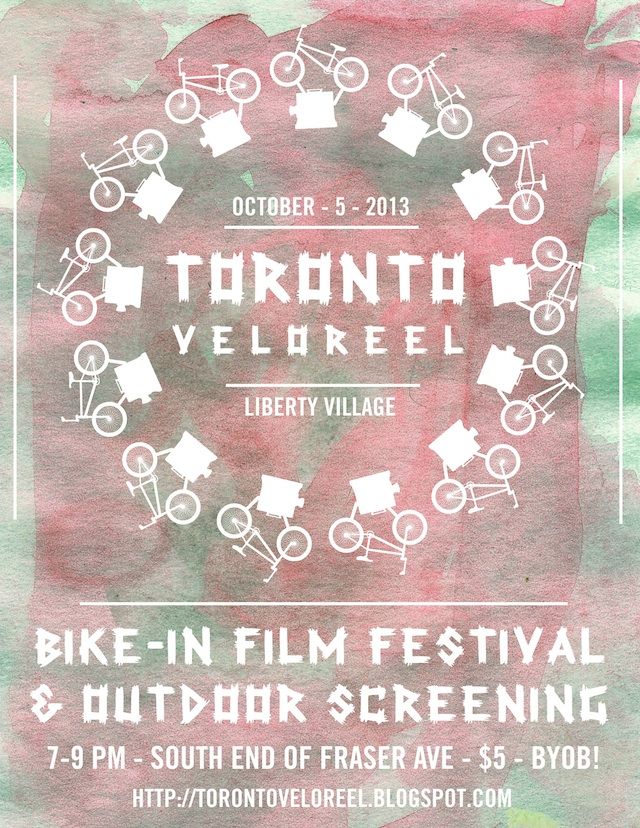 Just the facts ma'am:
What?: Local, DIY film festival about bikes and the people who ride them.
When?; October 5th, 2013. 7pm-9pm.
Where?: The end of Fraser Ave in Liberty Village, Toronto.
MAP
.
How much?: $5! BYOB! Popcorn is Free!
Why?: It will be really fun, and you don't want to be sad when all your friends are talking about how awesome it was.