The International Day of the Girl is fast approaching! It's October 11th this year. Get out those red markers and make your best circles!
What is that
day you ask? Plan Canada can fill you in!
The

International Day of the Girl

gives us a powerful way to highlight the particular needs and rights of girls, and to advocate for greater action and investment to enable girls to reach their full potential. Today, girls still face discrimination in many parts of the world simply because they are girls. They face unique challenges such as barriers to education and opportunities to make a living, early and forced marriage, and poverty. By ensuring girls have a right to an education, we'll help them attain the tools they need to create a better life for themselves and lift entire nations out of poverty. Here's why:
For every extra year a girl stays in school, her income can increase by 15 to 25%.
A woman who is educated will marry later and have fewer, healthier children.
Women invest more of their income in their families than men do.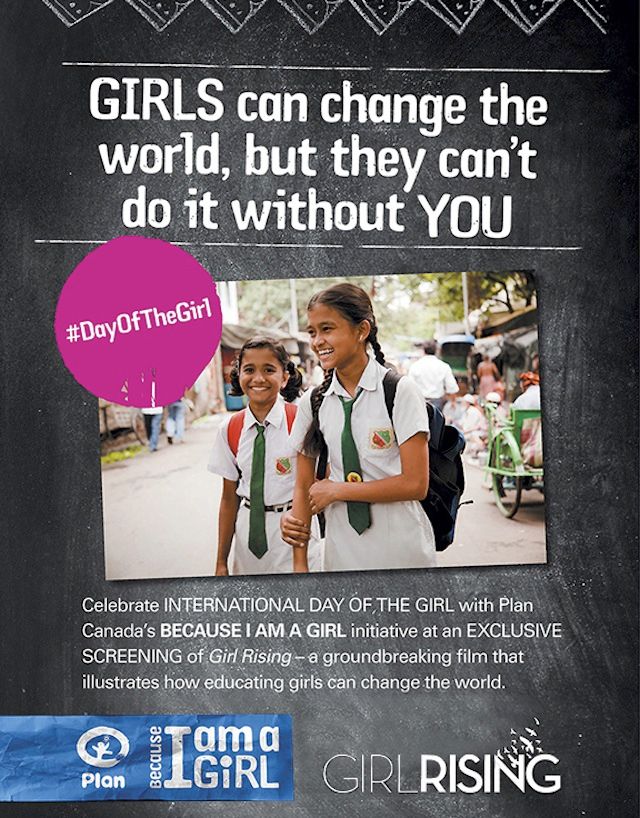 It's awesome, right? This year you can support in celebrate in a special way by going to one of the many
film screenings of Girl Rising
, taking place all over Canada! Toronto, Calgary, Ottawa and Montreal all have movie screenings going on that both support the program and develop community.
Love, love, love!