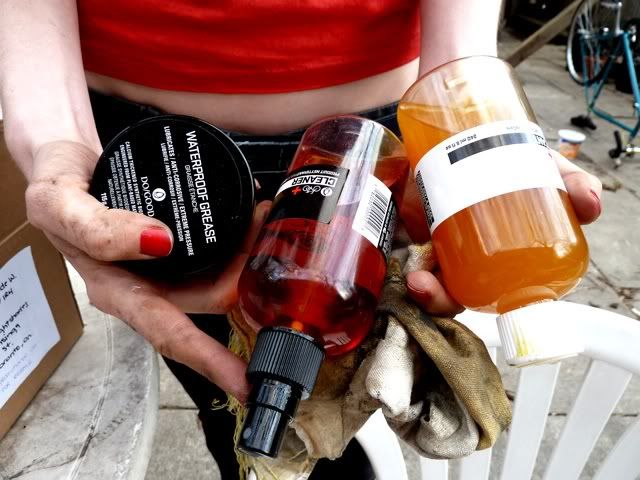 So, it's not very often that I get excited (like stupidly excited) about waterproof grease or chain lubricant - but
Orontas
, a Toronto-based bike care company, changed that pretty quick for me. All of their products are biodegrable, made from plants, petroleum free,
and
made in Canada. What's not to love?! While inspecting the chain cleaner (with what I can only describe as glee), my buddy Mark commented "Sooo basically, you could use this as mouthwash." (Except... don't).
Then, today hit 2o degrees. It was a day of bbq's and bike rides (and advanced poll voting -
go vote!
) - and of course some backyard bike love (as you can see below my Huffy's chain needed some serious affection). I hauled out the tool box, threw on some flip flops and set about changing tires, truing wheels, and making my bikes sparkle extra shiny in all this newfound sunshine. And I have to say, the Orontas stuff worked great. Sometimes, awesome things come in unsuspecting packages (Or rather sleek minimal packages, that resemble hair products more than bike repair ones - I do love me some good design!).