It's starts today! See you at the Cambie Pub tonight.
COG
gave me some mags to give away! I'm check pointing on Sunday with Linnea from
Gastown Sprint
- our outfit will involve short shorts up to their highest heights. See you there! ; )
Schedule
Friday May 27
2pm Registration Begins
The Cambie Pub and Hostel
Cambie Street at Cordova Street
7pm The Cambie Sprints
Head-to-head sprints around one city block
The Cambie Pub
Saturday May 28
10am Breakfast cat
Race your friends, learn the city, eat a free breakfast
Strathcona Park
12-5 Dead Baby Club ride
Ride your bike, joust your friends, custom builds welcome
Queen Elizabeth Park
4pm Soiree at Super Champion
Drink with Nick and Jamie
Super Champion bike shop 245 Main Street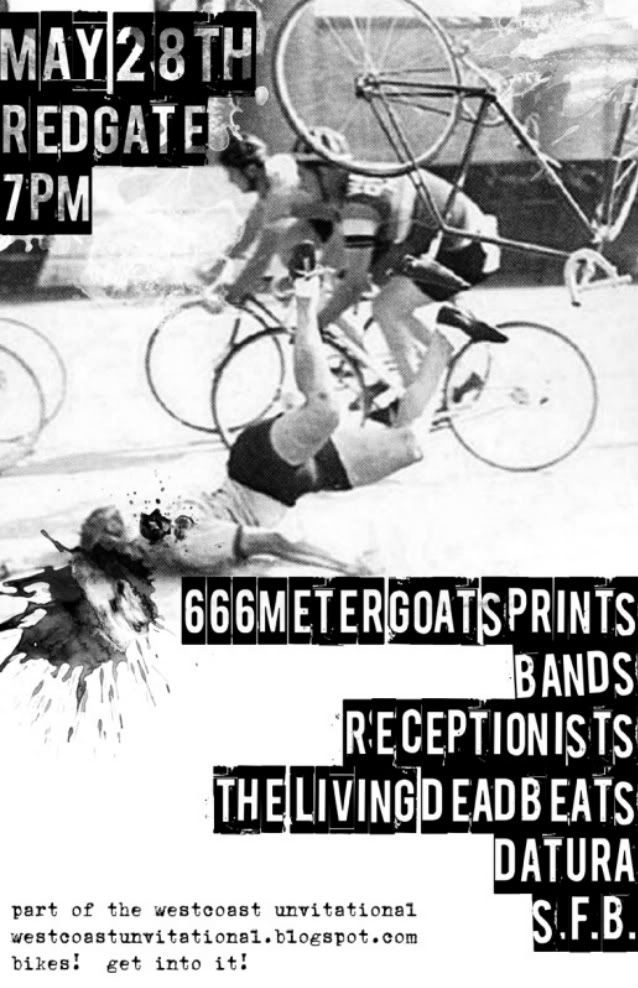 8pm Goat Sprints
666 Meter roller sprints, The Receptionists, Datura, The Living Deadbeats, +1 TBA.
The Redgate
Sunday May 29
11am Forum Breakfast
Let us know if your city wants to host the next Unvitational
Location TBA
1 pm Main Race
The Race will start at 2pm. Registration for the Main race will start at 1pm.
Crab Park
7pm Awards Ceremony
Pub 340 at 340 Cambie
Monday May 30
11am Workday alleycat
First of its kind, race while couriers work, meet cute receptionists
Vancouver Art Gallery