Dandy Horse Food Issue Launch! Go and eat and have fun and dance and win a cool bike yo!
On behalf of Tammy Thorne and the entire 2011 dandy crew we would like to cordially invite you to our launch party for our fabulous food issue.

The Food Issue is guest edited by Bob Blumer of the Food Network, a guy that bikes 1,000 kms in 10 days and calls it a vacation. Also in this issue:

*dandyhorse pits Canadian pro rider Ryder Hesjedal against Toronto courier Kevin Barnhorst
*Two of Toronto's best chefs concoct energy bars that actually taste good
*A cyclists' tribute to Jack Layton
*Artwork by Jason van Horne
*Stunning photos by John Lee and Molly Crealock
*Bike Spotting with more cargo bikes than you can shake a tire lever at
*And much, much more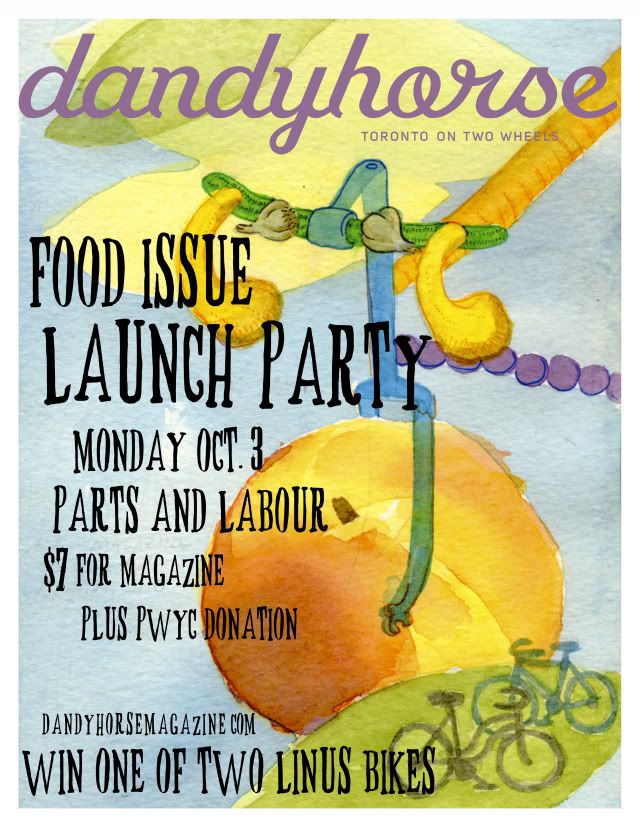 Help us celebrate 7 fantastic issues:

What: dandyhorse Food Issue Launch Party
When: Starts at 8 p.m. on Monday, October 3rd
Where: Parts & Labour - 1566 Queen Street West - MAP
Cost: $7 for magazine + PWYC donation ($3 suggested)
Find the event on Facebook here: https://www.facebook.com/event.php?eid=267992546555792

There will be a special performance by LUxURY Bob!

We also have two Linus bikes up for grabs, courtesy of Curbside Cycle. Raffle tickets are only $5 each! Draw is at 11 p.m. Please note: the same person can't win both bikes.