Toronto keeps making awesome bike events.
Tweed Ride Toronto is a group bicycle ride through downtown Toronto, in which the cyclists are encouraged to dress in classic tweed or any smart looking outfit. Any effort made to recreate the spirit of a bygone era is also appreciated. Any and all bicycles are acceptable.

Participants take in some our cities finest landmarks, breaking for prize photo ops and high tea with Urbane Cyclist, and ending the day with a smashing two-floor big band, swing dancing party.

Tweed Ride Toronto is a fund-raiser for Bikes Without Borders, a Toronto non-profit organization dedicated to using bikes and bike related solutions as a tool for development in marginalized communities. It is organized by BikingToronto.com and Bikes Without Borders.

Register Here!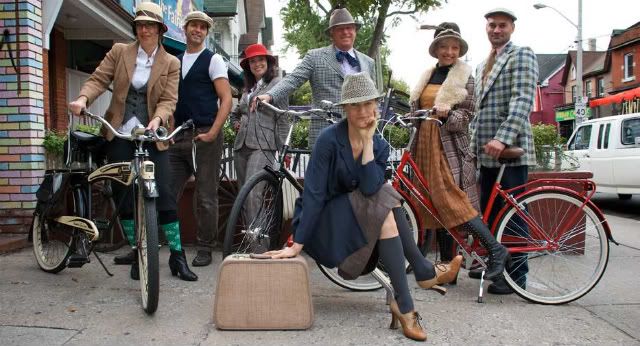 And if you need something tweed, or need to re-make something tweedy you already have, why not stop by the
Make Den and talk to Irene
about making something spectacular?