There is a really good chance you are reading this post with a vision rate that allows you to do things that lets you be equally at ease with doing physical tasks. (Chances are if you are reading this blog, biking is a component of how you propel your life forward.) So what happens to a person when they loose the sense that lets them navigate the world with the most ease and independence?
CNIB
,
Canadian Guide Dogs for the Blind
and
YMCA
s are there to help.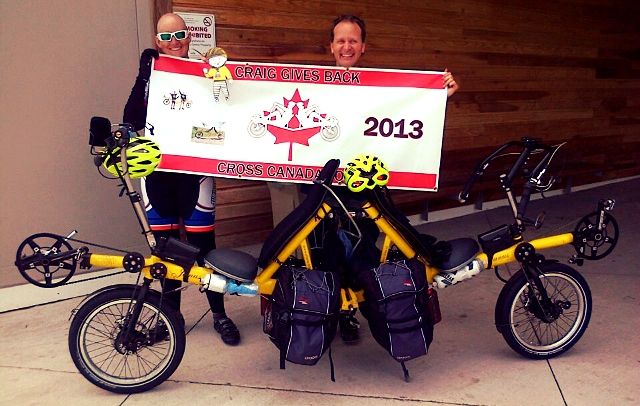 When
Nova Scotian Craig Aucoin
lost his sight to retinitis pigmentosa at the age of 16 after being an active kid and teenager, it was the start of an unhealthy lifestyle cycle. "Over the next seven years, I battled depression, blowing up to 240 pounds, eating everything and anything in sight. I shut everyone out and kept to myself." Accepting his eventual vision loss, making the decision to be healthy, and partnering with his family and the three above national organizations gave Craig a new lease on a life lived without sight. Now Craig and his and his training partner Lloyd McLean are currently day 8 into an 85-day, 8,200-kilometre journey across Canada to raise funds and awareness for the three organizations above that helped Craig.
"Inspired by the likes of Terry Fox and Rick Hansen, Craig wants to motivate Canadians of all ages to overcome their personal challenges and adopt healthy, active lifestyles."
Along for the ride is
Flat Stanley
, their partner in the trip and an adorable personal version of a travel gnome. So cute, right?
Quickest way to contribute is to
donate 5$ by texting CRAIG to 45678. (Donation will be charged on your phone bill.)
Now take a minute.
p.s. This is a sponsored post, but we would have written about the story anyway. MegO! worked for the 2010 Vancouver Paralympics and enjoyed that experience probably 100x more then the Olympics themselves.
Read more about it at an old blog she wrote whilst working for ethicalDeal.