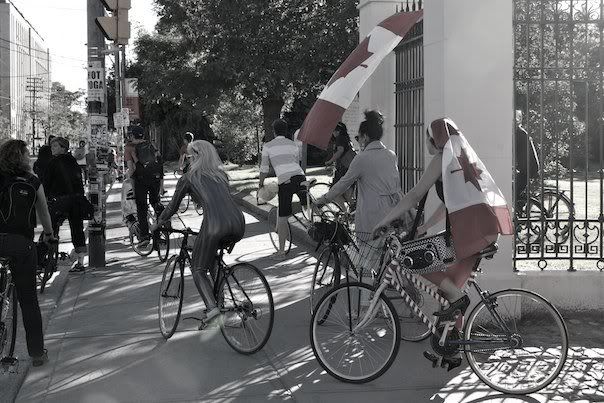 Last summer, we hosted some really fun bike tours of galleries in Toronto.
We saw some great work at Le Gallery, got a free talk about the
Rape of Africa
at the Mocca by David Lachapelle and made mexican wrestling masks for Nuit Blanche.
But the truth is that as a collective of mostly fashion designers/illustrators/photographers, we felt a little unsure of our qualifications to host a gallery tour (okay, that's how I felt anyways). So this summer, we decided to host a bike tour for something that we knew waaaay too much about - fashion design studios in Toronto. Yup. That's right - come and see the sweatshops where the goods get made, where hands get dirty, fabric gets cut (and cut and cut and cut) the giant bolts of fabric, the heat sealers, the seam rippers and the tailors shears. It's not glamourous (but that doesn't mean don't dress up! There are prizes!) but it is where all the magic happens.
Here are the details:
This month featuring 69 Vintage + The Make Den + Tomorrow Never Knows + Sara Duke + Sartoria + YNOT Cycle!
6PM Meet at The Drake Hotel for Mill St. (cheap!) beer + a welcome gift
7PM Cycle with The Deadly Nightshades
9PM Party at the Linus Launch in the Drake Underground + let Hipstamatic take your photo for a chance to win a Linus bike or a pair of Levi's Commuter Denim
12AM Winners announced
Don't forget to join us for two more STYLE SPINs on AUG 19th + SEP 16th!