Heads up #Toronto! Great party with top TO artists for the coolest of causes!
DNS loves, loves, LOVES the About Face Collective. Their wholistic, positive, fun approach to change making gets our seal of approval anytime, everytime, all the time.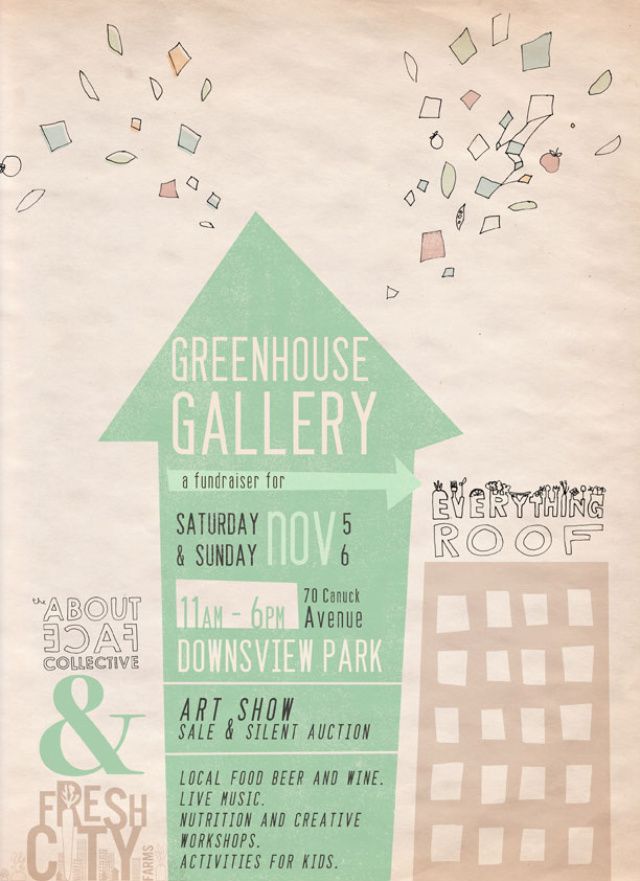 The About Face Collective and Fresh City present Greenhouse Gallery, a fundraiser for the Everything Roof
Saturday November 5th and Sunday November 6th, 11am - 6pm
Fresh City Greenhouse at Downsview Park
70 Canuck Avenue, Downsview Park, Toronto, ON M3K 2C5
We have collaborated with our urban farming friends at Fresh Citywww.freshcityfarms.com to turn their greenhouse at Downsview Park into a gallery for the weekend of November 5th and 6th. The event will feature outstanding local food, beer and wine, music and art. We will be showcasing original pieces for silent auction and prints for sale from a selection of renowned local artists. The adjacent greenhouse will be set up with workshops and kid-friendly activities offered throughout the weekend.
MUSIC
Saturday:
12-1 Isla Craig www.myspace.com/islacraig
2-4 Far from Rich www.myspace.com/farfromrich
4-5 A Yellow Field: www.ayellowfield.com
Sunday:
2--3 Loom www.myspace.com/owleyescrowsfeet
3-4 Carnival Moon www.myspace.com/carnivalmoon
4-5 The Holy Gasp: www.facebook.com/pages/theholygasp
FEATURED ARTISTS
Adrian Forrow, Alex Kurina, Childface Sausage, Claire Hall, Danielle Hession, Darlene Huynh, E V Mary Stephens, Emily Stoddart, Erica Brisson, Eunice Luk, Josh Raskin, Juliana Neufeld, Justin Broadbent, Justyna Werbel, Kathryn Macnaughton, Laura Mensinga, Lauren Pirie, Lisa Visser, Mahmood Popal, Mark Harris Sherman, Rodrigo Marti, Rose Broadbent, Sarah D'Angelo, Srdjan Segan, Talia Shipman, Tammy Yiu, Virgil Baruchel
plus
jewelry by Kate Schwan: https://www.facebook.com/pages/Fierce-Deer-Jewelery/182722618434845
hand-knit accessories from Muttonhead http://muttonheadcollective.com/
WORKSHOPS (ongoing from 11 - 3 each day)
Nutrition Workshops from Eating Pretty and Back to Abundance
Seedbomb workshops
Foodshare Workshops
COST:
Suggested donation of $10 includes one complimentary beverage
ABOUT THE EVERYTHING ROOF:
Everything Roof is a community rooftop garden and learning space on top of the new Centre for Social Innovation, Annex location. The creative structural elements of the garden will be designed and built by local artists using recycled and reclaimed materials. In collaboration with the Centre for Social Innovation, Sketch Working Arts for Street Involved and Homeless Youth and Skate4Cancer, The About Face Collective will create a unique, inspiring, visually exciting platform to promote urban farming, nutrition, green lifestyles and integrated community engagement.
We were recently granted $75,000 from Live Green Toronto toward our capital costs and need to raise the remaining funds by December 31st.
Join us to support and find more info at www.aboutfacecollective.com
ABOUT FRESH CITY:
Fresh City is a social enterprise empowering people to farm organically in Toronto. Fresh City offers a year-round box service with home delivery featuring produce and products from our farmers and other local partners.www.freshcityfarms.com