The best clothing swaps in Toronto are curated by the Deadly Nightshades. We may all be biased in thinking this, but what other Toronto clothing swaps get
featured in Blog TO
,
have major Toronto fashion
scene characters come out and throw down walk-offs, and land you with rad items that will
get you in the Huffington Post
? We do!
Check out the Facebook event HERE!
It's the greenest, funnest, most affordable way to purge your closet, get great new stuff, hang out/ have fun with your friends, and make new ones! For the first time, we are hosting the event at the still sparkling brand-new
Make Den
location! (1244 Bloor Street West, two blocks east of Landsdown on the North Side. Look for an amazing Queen of Hearts window display and a Seafoam interior.) It's convenient as you can sign up to learn how to alter those amazing swap finds or rent a sewing machine if you don't have one yourself.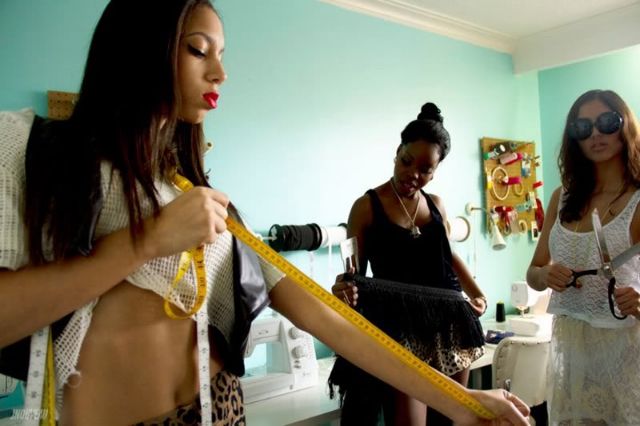 swap and alter all in one place , photo from the Make Den,
The event is NOT at midnight- this swap
starts at 8pm, Saturday February 23rd
, and goes t'ill midnight. What a great way to avoid the bar scene! Or, since the Make Den is conveniently located in the up-and coming trendy Bloordale area, you can pop over to places like Three Speed, Bar Neon, or the Whippoorwill before or after swapping.
This time we are also going to have a fabric sale in the back! If you have left-over fabric, trims, notions or thingamabobs, for $10 you can sell your goods to a really awesome crowd.
Contact us to book a table.
A reminder on swapping etiquette; All clothes, accessories and fabrics to be swapped should be in good condition, freshly washed if have been worn, with no stains. Minor tears and fixable things are okay.
See you then!
P.S. This year, left over clothes will be donated to the EHM clothing bank, one of Toronto oldest homeless shelters. So feel free to bring more then you plan on taking away.